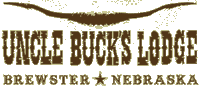 Driving/Flying Directions




Uncle Buck's Lodge is located on the east edge of Brewster along Highway 7, just north of the Highway 91 junction. Those traveling by Interstate 80 can take numerous exits north, including the Highway 281 exit at Grand Island, the Highway 83 exit at North Platte, or the Highway 10 exit at Kearney. All exits offer scenic drives to our ranch.

Airports with commercial service are located at North Platte and Grand Island, or you may fly your own private plane or jet into the Ainsworth Airport, which has a 120- by 6,800-foot runway. Jet fuel is available. Ainsworth is directly north of Brewster on Highway 7.




How to come here?


Click on the icon to download the driving directions to Brewster, Nebraska.


Want to fly in here?


Click on the icon to download the information about Ainswort airport.